Following on from the success of the inaugural EaStCHEM Conference for Early-Career Researchers (ECECR), which was held at the University of Edinburgh in August 2016, the organising committee at St Andrews invite you to attend the second ECECR, which will be held at the University of St Andrews (North Haugh) on Thursday 7th September 2017.
The scientific program will showcase research from postdoctoral and early-career chemists from the Universities of St Andrews and Edinburgh, and aims to foster multidisciplinary collaborations between the institutions.
The conference will consist of talks, posters, exhibitions, and will host two keynote lectures from early-career scientists who will share their complementary paths to success in academia and industry.
Above and beyond research presentations, the meeting aims to provide a focussed platform for all early-career researchers thinking:
"What's next for my career?"
We look forward to welcoming you to St Andrews this September,
The ECECR 2017 Organising Committee.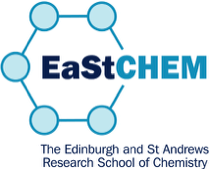 September 2017
The abstract book is available to download here
August 2017
The deadline for abstracts has been extended:
Oral Presentations: 7th Aug 2017
Posters: 14th Aug 2017
May 2017
Registration is now open. Deadline for abstracts is 31st July 2017 and for attendance is 14th August 2017.
April 2017
ECECR2017 officially launched. Registration will open in May.
Follow the conference on twitter using #ECECR2017


We thank our sponsors for their generous assistance